Opening Meeting of FutureBio Project Held by PAU
The opening meeting of the FutureBio project, which is supported by the Turkish National Agency and carried out by Pamukkale University, was held at Pamukkale Richmond Hotel on May 26-27, 2022.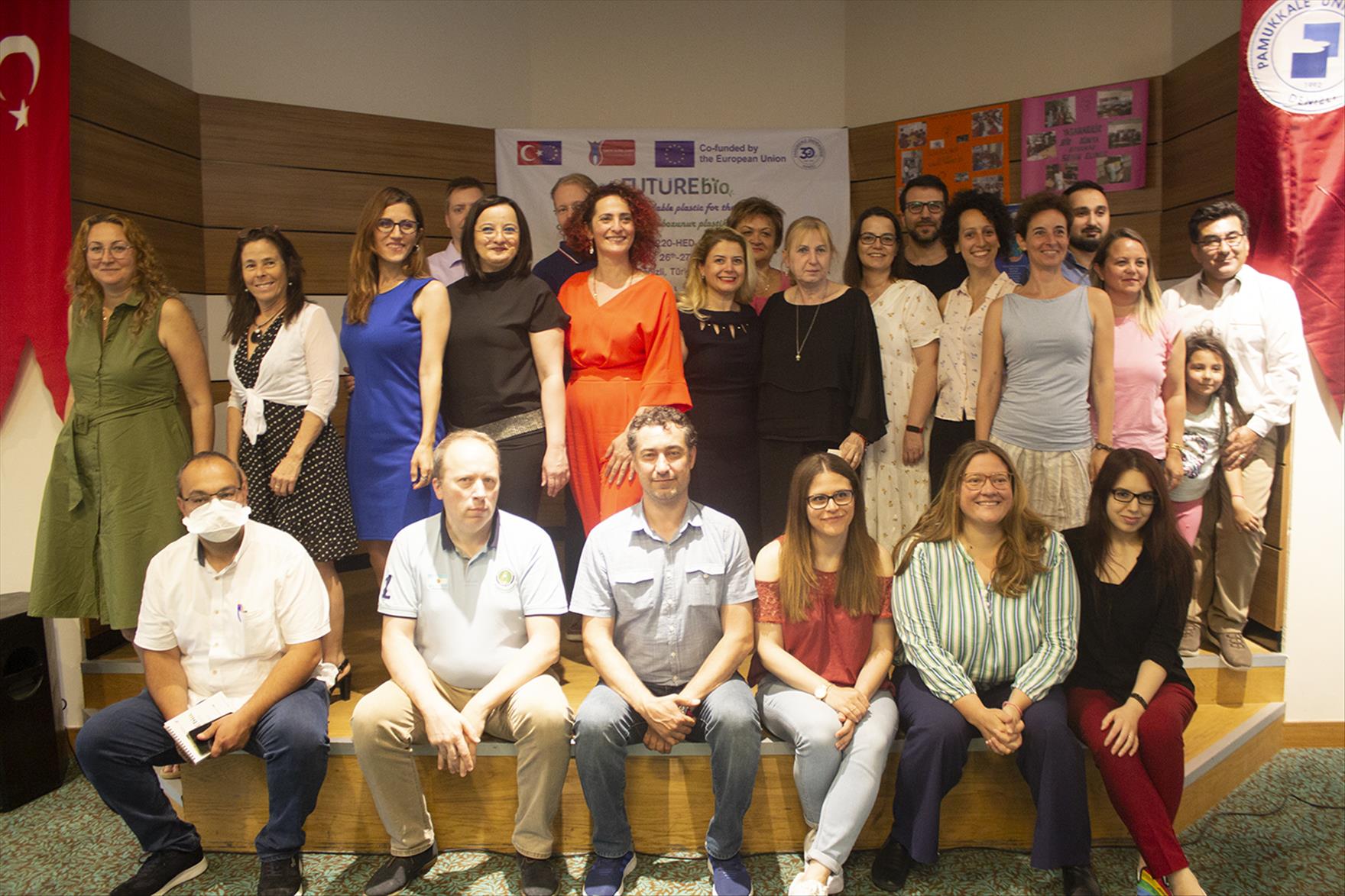 Kirklareli University and Selcuk University from Turkey; Fondazione Bruno Kessler, Cosvitec Societa Consortile Arl, Universita Degli Studi Di Trento and Indivenire srl from Italy; Universitatea Technica Cluj-Napoca from Romania; CTRL Reality Oy from Finland; Representatives from Ostbayerische Technische Hochschule Regensburg from Germany and the University of Applied Sciences of Southern Switzerland as external stakeholders from Switzerland were also present at the meeting.
Project Coordinator Assoc. Dr. Arzum Işıtan explained the purpose of the project and the details of the project as follows: "Today, polymeric materials are the third most used "human material" after steel and concrete, with an annual production of over 600 million tons. On the downside, polymeric materials are an important part of the solid wastes that are disposed of in landfills. According to EU reports, packages made of plastic materials constitute approximately 8% of the total garbage in landfills. In addition, micro-plastics, which are small pieces under 5 mm, can remain intact for many years, and due to their very small size, they can easily infiltrate into water resources and oceans. For polymeric material waste; reuse, incineration for energy production, composting or soil biodegradation processes are used. To mitigate all the negative effects caused by polymeric materials, the European Union has developed "An EU Strategy for Plastics in the Circular Economy" and "Plastic Waste: an EU strategy to protect the planet, defend our citizens and strengthen our industries". In the European Commission reports, it is stated that approximately 25.8 million tons of polymeric material waste is produced in the European Union every year and only 6% of polymeric material products are used as recycled plastics. The waste of polymeric material is increasing exponentially with 'disposable' polymeric materials.
Plastics obtained from organic materials, reusable and biodegradable by microorganisms, though these are an important part of these strategies, currently constitute less than 1% of total polymer materials. For a more livable and greener world, biodegradable polymers should be developed and used. For a more livable world, it is particularly important to reduce carbon emissions within the scope of the "Green Agreement" signed by our country. For this reason, this project idea has been developed in order to introduce organic-based bioplastics instead of traditional plastic materials that are carbon-based and difficult to dispose of, to increase their use, and to increase the awareness of the society on environmental pollution and environmental protection. With this project, it is aimed to develop high-tech training modules for university students and industrial workers, to organize training activities for academic staff and students, and to raise awareness in the general public."