A Brand New Application for Young People: Contactless Payment on Campus
Pamukkale University is switching to contactless and digital payment application on campus with a new mobile application for young people.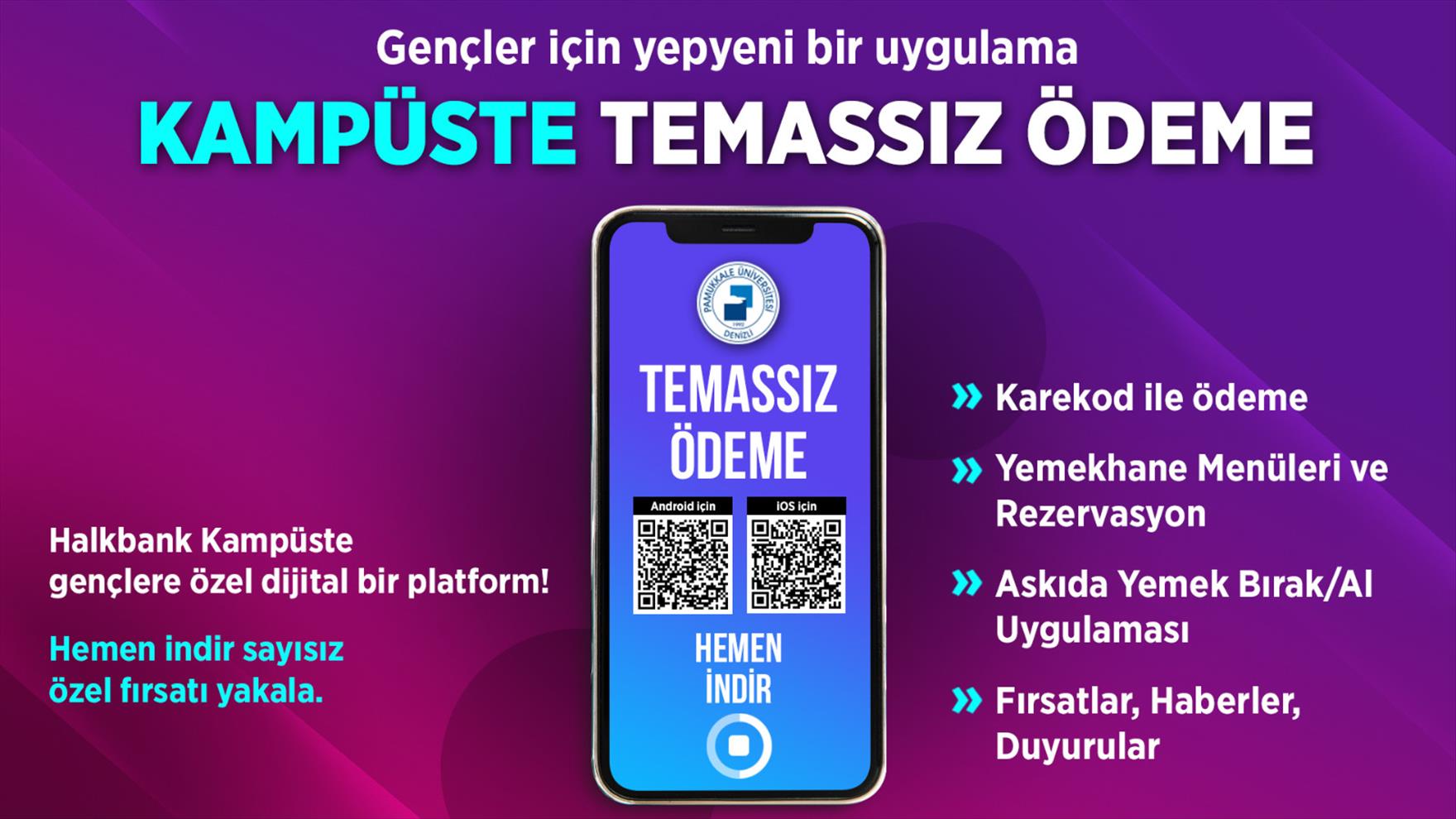 Pamukkale University is adding a new one to the technological developments for campus life with Halkbank Campus service, one of the digital payment systems used by many universities in Turkey. The mobile application, which offers PAU academic and administrative staff and students the opportunity to receive faster and more efficient services on campus, will also offer PAU students the opportunity to benefit from special advantages.

With the mobile application, expenditures and payments can be tracked, payments can be made with QR code, suspended meals can be left or suspended meals can be used, information such as occupancy rates and menus in dining halls can be followed and reservations can be made, and various content and announcements can be followed.

No More Cash Payment

Students and staff who download the mobile application will make all their payments on campus through this application. At payment points such as dining halls, social facilities and campus cafes, payment will be made with the QR codes created in the application instead of paying with cash or credit card.

Suspended Food Application is Coming

With this application, it is also possible to leave food on 'hangers' and benefit from the food left on hangers. Students in need can be supported by purchasing food on hangers through a menu in the application. In the same way, students in need will also be able to receive the food on hangers.

Announcements, Push Notifications and Campaigns

In addition to contactless payment and suspended meals, the app offers informative content on health, culture, arts and sports, event announcements and academic announcements, as well as accessing and participating in content, projects, competitions and events on various topics. In addition, with this application, it will be possible to be informed about personalized opportunities and campaigns with push notifications while on campus.

Among the special opportunities offered are special discounts of up to 50 percent for various brands outside the campus, as well as discounts at certain rates in social facilities such as canteens within the campus, and the points accumulated in the application can be used at points such as dining halls, canteens and cafes.

It is Very Easy to Start Using the Application

To use this application, it is enough to download the Halkbank Campus mobile application and approve the "Contactless Payment" text in the Pusula Information System. After this approval, transactions will be carried out automatically.