PAU Returns from TECHNOFEST 2023 with Awards
Pamukkale University (PAU) returned with awards from TECHNOFEST 2023, Turkey's first and only aviation, space and technology festival organized with the stakeholders of many organizations that play a critical role in the development of national technology in Turkey.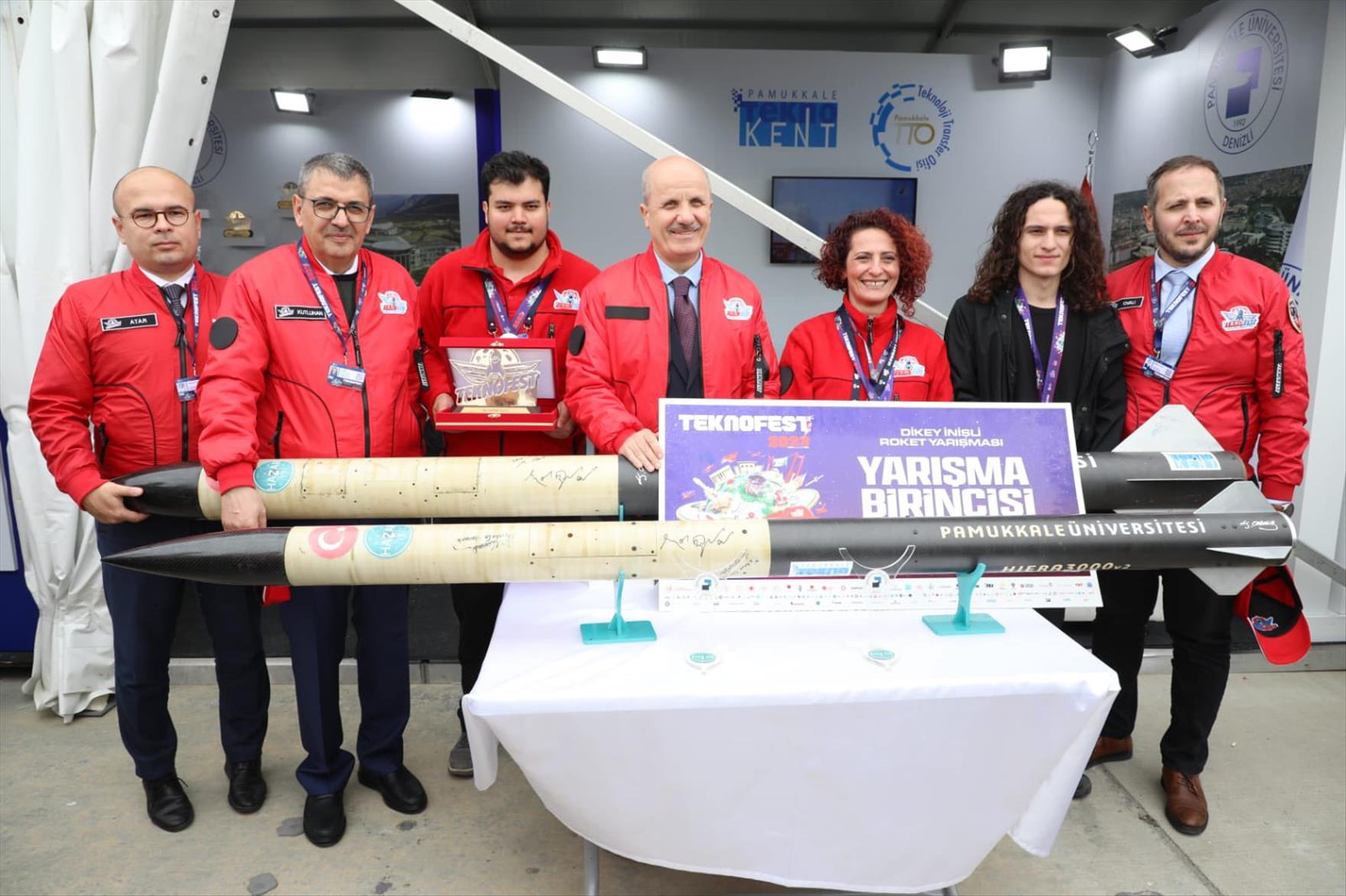 TECHNOFEST, which was first held in 2018 and gained an international dimension in its fifth year, opened the doors of the 5-day festival at Istanbul Atatürk Airport on April 27-May 1, 2023. With the vision of the National Technology Move, it was hosted by the Technology Team Foundation of Turkey for a technology-developing Turkey, under the leadership of the Ministry of Industry and Technology.
Hazar Team Ranks First in Vertical Landing Rocket Competition
Pamukkale University Hazar Team, which raises the bar of success to the next level every year, ranked first in the Vertical Landing Rocket category this year and received its award with the presentation of President Recep Tayyip Erdoğan.
ATAY Team Receives Board Special Award
PAU ATAY Team won the board special award with their vehicle named "Alatay" at TECHNOFEST International Efficiency Challenge Electric Vehicle Competition at TÜBİTAK Marmara Research Center.
Pusat Team Ranks 4th in Turkey
PAU Pusat Team ranked 4th in the TECHNOFEST 2023 Unmanned Underwater Systems Competition in Turkey by reaching the finals with 20 teams among more than 400 applicants.
1 Gold, 1 Silver, 1 Bronze Medal for PAU at ISIF'23
At the 8th Istanbul International Invention Fair (ISIF'23) within the scope of TECHNOFEST 2023, Pamukkale University Engineering Department Thermodynamics Department Assoc. Prof. Dr. Osman Yeler's invention named "A Thermoelectric Heat Pump for Incubators" won a gold medal. The award was presented to Pamukkale Technocity Director Assoc. Prof. Dr. İsmail Ovalı.
At the 8th Istanbul International Invention Fair (ISIF'23) held within the scope of TECHNOFEST 23, Prof. Dr. Cem Gök, Assoc. Prof. Dr. Arzum Işıtan, Prof. Dr. Mine Sulak, Ahmet Gül, Beyza Kahraman, Ahmet Akif Saygın brought the silver medal with the invention named "Nano-added Biopolymer Fire Extinguisher Balls".
At the 8th Istanbul International Invention Fair (ISIF'23), the invention that brought the bronze medal was the "Spacer Block for Revision Total Knee Arthoplasty" invented by Prof. Dr. Harun Reşit Güngör.